There is so much to explore within a two-hour drive from the hotel, and this post is about the ridiculously scenic Hood River. Not only is the town of Hood River packed with charm, delicious food, wine and beer, but it is located within the Columbia Gorge National Scenic area, a wonderland of natural beauty not to be missed.
Explore a different side of Oregonian life, complete with local shops, stunning Columbia River views and potential wildlife sightings, there are also two AVAs in this region, the Columbia Gorge and Columbia Valley. Check it out, all in a days travel, so you can make it back to Independence all aglow from another day of adventure.
The charming and scenic community of Hood River with Mt. Hood as a backdrop!
Hood River is one of those towns that shouts "Pacific Northwest." It is filled with multiple local eateries, dozens of microbreweries, countless organic farms, and a breathtaking view of the Columbia River. We are listing one possible itinerary below, but we would be remiss in our advice if we did not say that this is only one of so many different ways you can spend a day in Hood River, Oregon.
*Note: this itinerary was made with summer in mind (when the sun stays out longer than in the winter, but that doesn't mean you can't travel to Hood River year round. Just take note of the earlier sunset if you're traveling in the winter season, especially if you're planning on partaking in any outdoor adventures).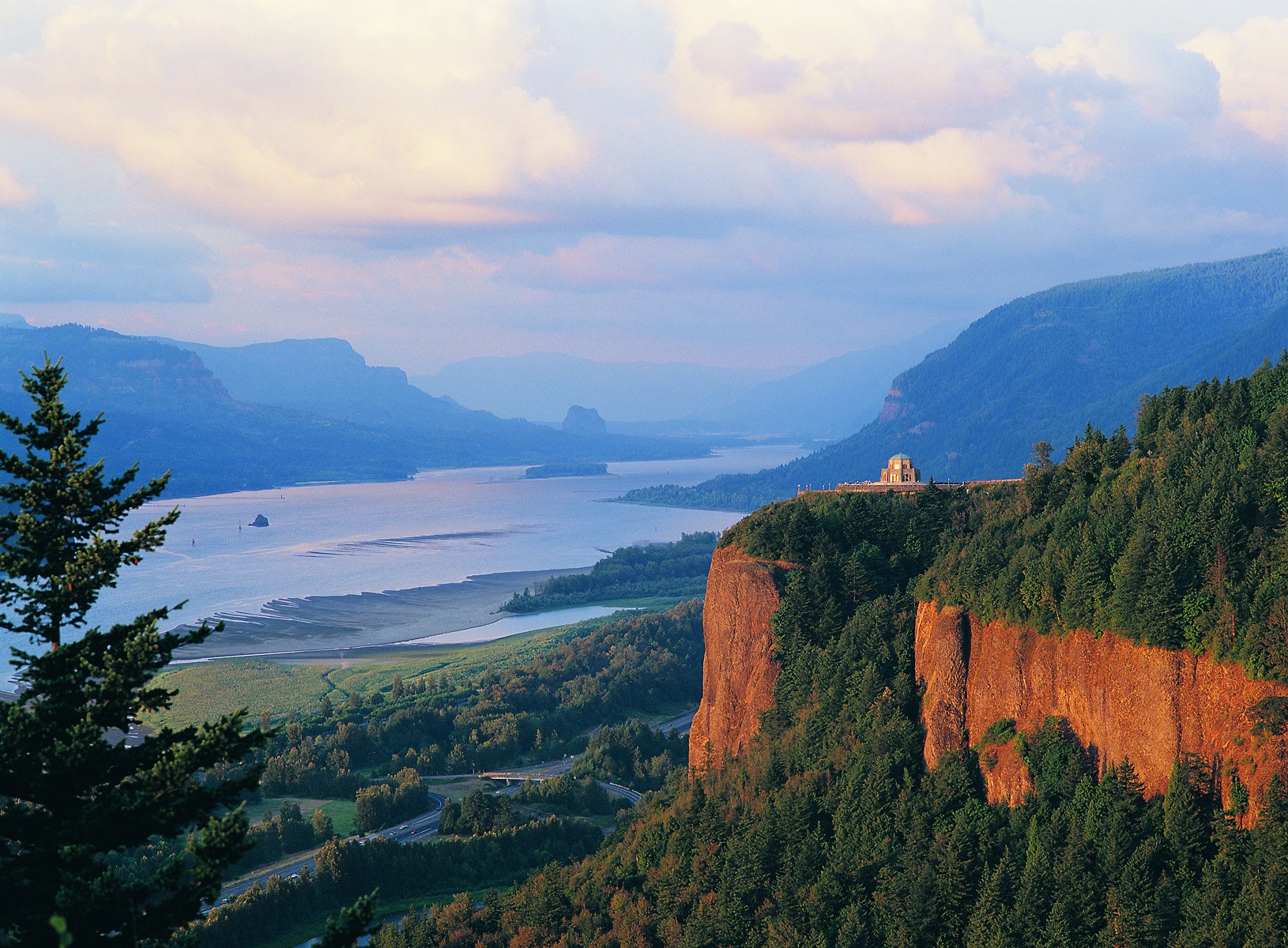 The drive east from Portland to Hood River winds through the Columbia Gorge National Scenic area.
Hood River Daytrip Itinerary:
8AM: Wake up and head to Territory for a yummy breakfast. Make sure to pack a picnic blanket for the day, as well as some sunscreen.
9AM: Take the scenic drive to Hood River. (1.5 hour drive each way, but you could spend a whole day stopping at waterfalls and hiking trails on the way to your destination.)
Driving on Interstate 84 is the fastest route and absolutely gorgeous, but if you want to "amp up the views and the history" exit at Troutdale or at Corbett and take the Historic Columbia River Highway. The byway skirts the base of five significant falls: Latourell, Shepperd's Dell, Bridal Veil, Wahkeena and the gem of them all, 620-foot Multnomah, one of the tallest waterfalls in the nation. 
Constructed in 1913 be engineer Samuel Lancaster, the Pacific Northwest's "first modern road" and the "nation's first scenic highway" was called "King of the Roads". The beauty spots were located first and the road engineered to connect them. One of the most significant historic roads in the nation, it is internationally praised for its spectacular waterfalls, architectural gems and magnificent views of the Columbia River Gorge. Lancaster hired Italian stone masons to build retaining walls, arched guard walls and other features along the highway.
Visit Crown Point and the Vista House, once a very fancy rest stop (or comfort station as it was called at the time) on the "King of Roads". The views of the Gorge from here are classic. Lancaster described the Crown Point promontory as the ideal site for "an observatory from which the view both up and down the Columbia could be viewed in silent communion with the infinite," and it could "serve as a comfort station for the tourist and the travelers of America's greatest highway." He gave it the name "Vista House".
Latourell Falls with its dramatic curtain of water and lush surroundings is just a short walk from the highway and one of five that are visable from the road.
The Oneonta Gorge is a gorgeous box canyon where nymphs and ferries live. One can walk to the back of the canyon, but bring a change of clothes and shoes, as you will be wading in waist deep water….. totally worth it!
From left: The Historic and Scenic Columbia Gorge Highway is still "King of the Roads" in our book; the Vista House on it's dramatic viewpoint; and Multnomah Falls, one of the country's tallest waterfalls.
12:30AM: Check out downtown Hood River and explore the local shops.
1:00AM: Grab a pint and some lunch at Pfriem Brewery on the waterfront.
As the blog writer, I have to tell you that this is my favorite Brewery in Oregon.

A few personal preferred beers include the Lemon Zest Farmhouse Ale, Pilsner, Guava Saison (only offered during certain summers), and the Canadian Lager.
A few favorite food items include their signature salad (tomato vinaigrette for the win!) and basically any soup that they offer (all of which are vegetarian). But if you're into seafood, I also highly recommend their steamed clams.
Note: Dogs are not permitted on the property. So another option for lunch is to grab a pizza from Solstice Woodfire Pizza and Grill (only a short walk away from Pfriem) and enjoy it outside on the lawn as you partake in the next listed activity.
Into beer? You've go to try Pfriem, based in Hood River.
It's not just the beer at Pfriem, their food is elevated without being pretentious and a must try!
Wood fired pizza at Solstice always "hits the spot".
1PM: Watch the Kiteboarders
Head to the main lawn in the waterfront portion of town, or even choose the sandy beach that's sectioned off specifically for swimmers, and watch the kiteboarders lift dozens of feet in the air as they catch the strong wind currents that make Hood River famous for this sport. (This is where your picnic blanket comes in.)
In addition, you will also see several skilled Windsurfers and even a few brave boaters on the river.
We also recommend grabbing a gelato from the nearby food cart to satiate your sweet tooth while watching the water.
If you are swimming, make sure to bring some waterproof shoes or sandals, as the bottom of the river can be a bit rocky and slimy at times.
Perhaps you'll even spot a soaring eagle or osprey, or seal passersby.
The Columbia Gorge is known for its powerful winds, the silver lining to all the bluster is that Hood River is one of the top kiteboarding and windsurfing sites in the world. These athletes make it look easy, but flying like they do is no joke!
2PM: Head to Ferment Brewery (about a 5 minute walk from both Pfriem and the beach at the waterfront) and try one of their signature cocktails.
Note: Dogs ARE permitted in the outdoor seating area at Ferment.
We recommend checking out their signature Sangria with Kombucha! (I know it sounds weird, but trust us, it works.)
The Hood River Valley offers up stunning views of Mt. Hood and Mt. Adams and wildflowers in the Gorge (especially in late Spring) are a "must see". Hikes like Dog Mountain, Cape Horn, and Tom McCall Nature Preserve are great for wildflower viewing.
3PM: Visit a local farm.
There are tons of farms that grow and sell local produce in Hood River, so many in fact that this portion of the region has been dubbed "The Hood River Fruit Loop." The views of Mt. Hood and Mt. Adams on the fruit loop route are stunning. Not to mention the bounty of farm stands, U-pick, and various makers and growers. You'll want to check out different spots depending on what's growing when you're there, but if you're visiting in the summer, we highly recommend Hood River Lavender Farms.

Every July Hood River Lavender Farms hosts a "Lavender Daze" festival, celebrating the peak bloom. The event brings together live music, local art, activities, and, of course, a U-pick lavender extravaganza.
If you're bringing the kids along (or even if you're not) you may also want to greet the resident farm animals.
On a clear day, Hood River Lavender Farms will showcase a spectacular view of Mount Hood.
5:30PM: Head to The Gorge White House
Situated on 30+ acres of orchard in the heart of the Hood River Valley, The Gorge White House is an oasis that offers artisanal farm fresh food, award winning Hard Ciders & Wines, beautifully maintained fields of U-Pick Fruits and Flowers with photo opportunities at every turn.
You can't enter an area called "The Fruit Loop" and not sample some local cider! (Am I right??)
Choose from multiple cider flavors, or let the cider experts guide you through a custom made flight. From Apple, White Peach, Cherry, and Raspberry, to Honey Lavender and Lemon Pear, you'll leave satisfied that you got a true taste test of this fruit-forward region.
Cherries grow in clusters in the Hood River Valley with Mt. Hood in the distance.
The Hood River Lavender Farm does magic with Lavender and all in a gorgeous setting!
The Hood River Valley is a top producer of pears, taste them straight from the source!
 7PM: Round out the day with a local dinner in Hood River. Check the menus for specific dietary accommodations, but here are few choices to get your started…
9 PM: It's time to head back to Independence. But saying goodbye is never sweeter than when it means returning to the Willamette Valley. Your cloud-like bed at The Independence awaits you, as does the fun you have planned here with us!
From left: a wood fired pizza from Solstice, a microbrew from Full Sail Brewery, and a beautiful dish from Celilo Restaurant and Bar, on the Columbia.
Additional Recommendations and Resources:
The Gorge with diverse landscape and climate allows for diverse and special wines. The vineyard views are stunning.
Vines in the Hood River Valley with Mt. Hood in the distance.